blog
The Secret Sauce of the Cubs…Analytics!
As a die hard Chicago White Sox fan, what I am about to share with you is painful. But as a lifelong (over the top) baseball fan and CEO of an analytics company, this is simply too amazing not to share.
A few months ago, Jed Hoyer, the General Manager of the Chicago Cubs, gave a brilliant presentation on the unique strategy the Cubs have deployed over the past five years to create a world-class organization and a World Series level team.
By now everyone knows "what" the Cubs have achieved, but this presentation explains the "how". I found this on-line and it is absolutely fascinating.
Here are the highlights
This chart below shows you the management team's starting point when they walked in the door in 2011. They set the St. Louis Cardinals as the benchmark…it showed the Cubs had a long way to go. To simplify, red is bad (meaning they lost more games than they won in a given year) and blue is good.
2. But the Cubs used analytics to determine how they should construct their team. This shows you how they looked at the value of a player (WAR = Win above Replacement) against their age. In other words, the value begins to go down and has "negative value" (in yellow) at the very moment when most players are signing a big free agent contract. What the Cubs determined is that they needed to get players when they were young and sign them to long-term agreements when they still had "surplus value" (in grey). Most team's were chasing expensive free agents to placate their fan base. The Cubs went in the opposite direction.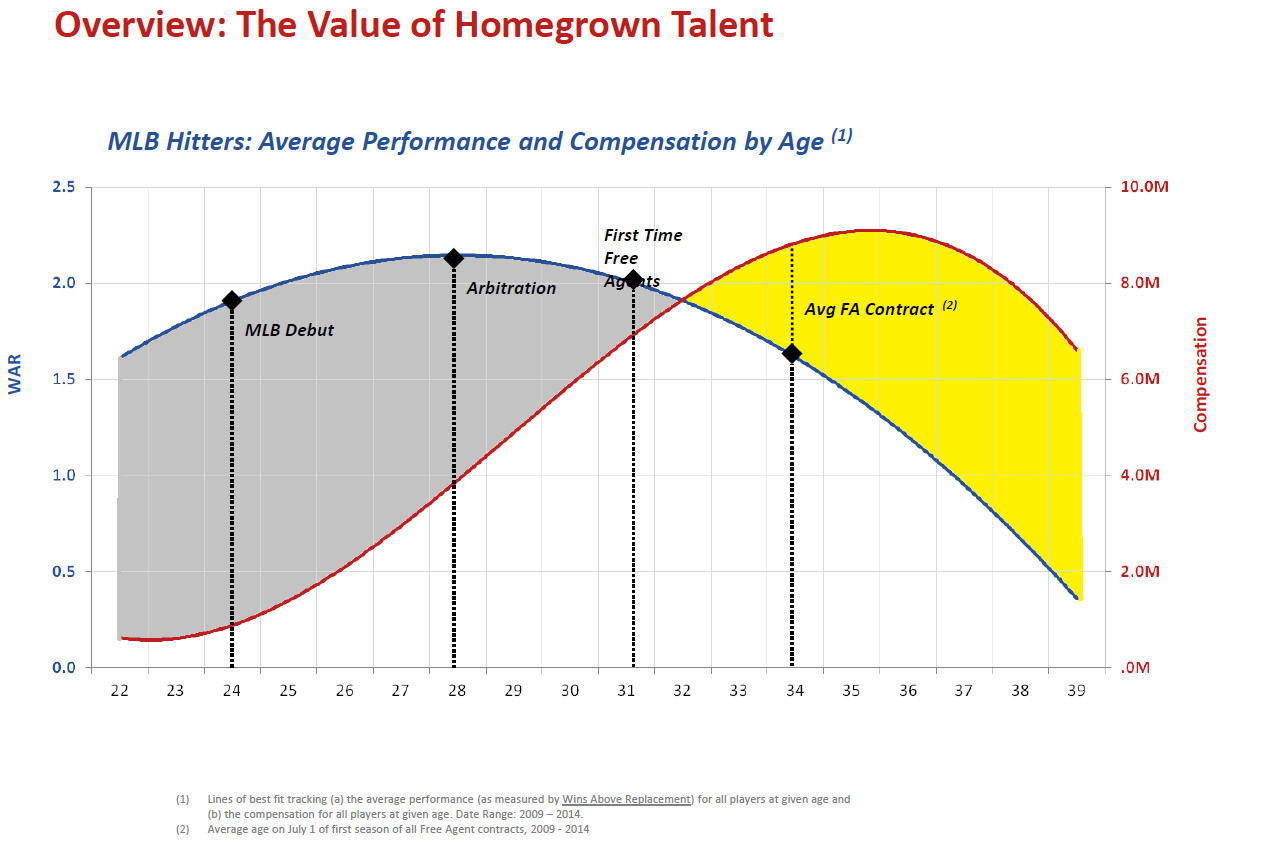 3. With that strategy, the chart below shows where they were at in 2011…lots of older players with very few years under control (under contract).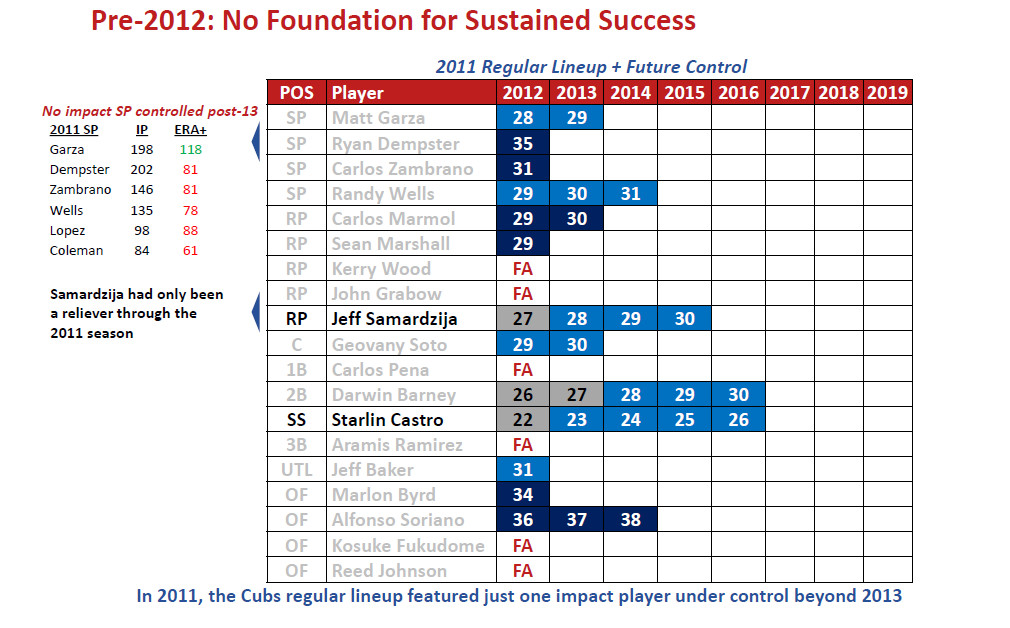 4. The Cubs dumped their older players and their big contracts in exchange for draft picks and younger players. The net effect was a stunning shift to younger players who are now under contract for many years. In other words, the Cubs didn't get good (or great) for one season, they now have an exceptional core in place for the next five years. Beyond brilliant.
That's not the entire story of course…click here to see Jed Hoyer's full presentation.And anyone on the Cubs would be quick to point out that this story, of course, isn't all about analytics. They have a lot of talented people who have worked really hard and had a little bit of luck sprinkled in.
They have also had great leadership…from their owner Tom Ricketts to their manager Joe Madden. On that note, I think this image from Joe Maddon's iPad in Spring Training perfectly captures what is really the hardest thing to build…a culture.
While claims of curses have been a crutch for this team and their fans for many years, analytics have helped pave the way for a future that now certainly looks very different than the past.